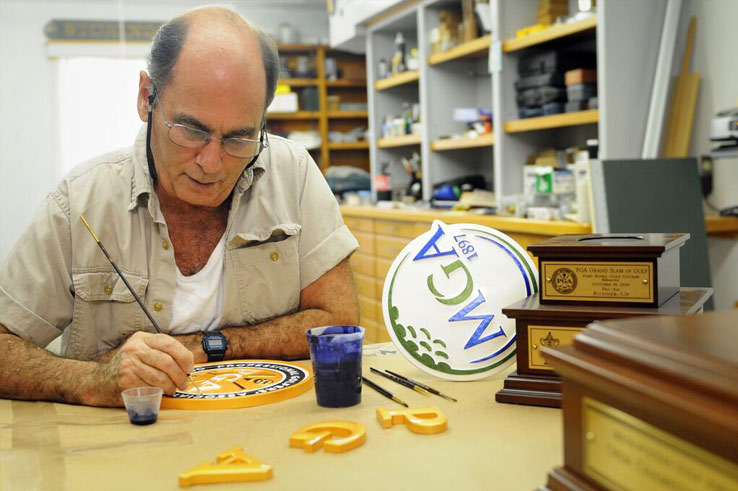 Pat Morell, Founder and Creator Director Morell Studios
When major U.S. golf organizations, the biggest names in the golf industry, industry leading companies, chapters of The First Tee and the top golf courses in the U.S. need a premium quality, award,  shadow box or recognition panel, they contact Pat Morell. They reach out to Pat because he is the best at manufacturing hand-crafted, museum quality awards that are unmatched in design, craftsmanship and elegance.
Born in Niagra Falls, N.Y., Pat's family moved to South Florida when he was nine years old. He started making models of boats for naval architects at the age of 19. He spent a few years working as a deck hand on artist Jack Gray's boat and carving half-models of historic vessels while traveling through the Bahamas and up to Nova Scotia. The woodworking techniques inherent to the marine industry require intricate detail in design, craftsmanship, assembly and finishes. Pat has applied his extensive knowledge of woodworking, carving, engraving and custom paints and finishes to the creation of a stunning product line of awards and recognition products.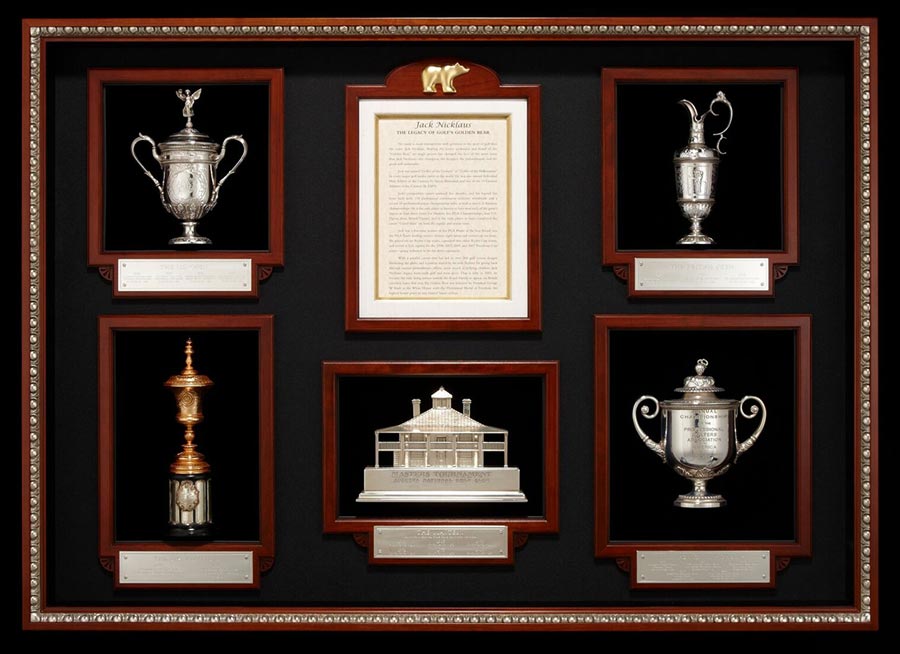 He got his start in the golf world when he received a call from PGA National Golf Club to carve details on the new pro shop they were building. Pat's big break in the golf industry came when he approached Bear Lakes Country Club and offered to "do some work for them" in exchange for an introduction to Jack Nicklaus. That led to Pat handling a variety of assignments for Nicklaus and his wife, Barbara.
In 2001, Pat traveled to Muirfield Village Golf Club in Ohio and designed a permanent display using the replica trophies of Nicklaus' wins at the four Majors. He also created a special display at The Lost Tree Club (North Palm Beach, Fla.) called The Legacy of Golf's Golden Bear, a display of Nicklaus' lifetime achievements featuring replicas of the majors' trophies and the U.S. Amateur trophy, all of which were made by Pat. Morell Studios is currently a Licensee of the Nicklaus Companies, providing a customized line of hole-in-one plaques that are personally autographed by Nicklaus.
Pat enjoys bringing a club's or company's logo to life by hand carving a three dimensional version with exquisite details. After the logo is carved, a mold is created to cast the individual pieces for painting. The logo can be created in many sizes and used in shadow boxes or on wall mounts or desktops.

All of Morell Studio's products are proudly manufactured, engraved and assembled in the United States at his new production facility in West Palm Beach, Florida. Our design studios include an experienced team of wood workers, engravers and finishers.
Through the years, Pat Morell has also designed and produced awards for the PGA of America, The Memorial Tournament, Arnold Palmer and Gary Player, the American Society of Golf Course Architects, and several other 
top organizations in the golf industry
. In addition, he's used his superior design skills to manufacture awards for Seminole Golf Club, Sleepy Hollow Country Club, Oakmont Country Club, The Bear's Club and several chapters of The First Tee. The company also produces awards for the Westchester Golf Association and many sections of the PGA of America.