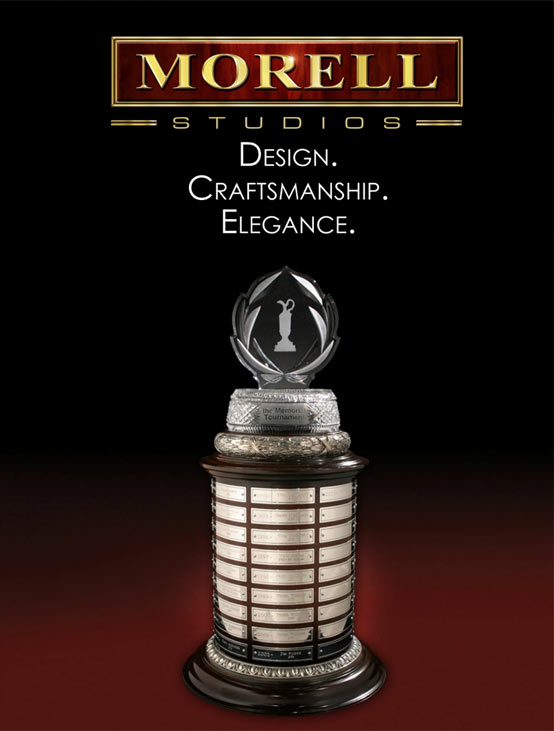 Morell Studios, the maker of engraved wood plaques and custom recognition products for the golf industry has released a new product brochure that can be downloaded as a PDF or viewed as a Flipbook. Download PDF | View FLIPBOOK
With a home base in West Palm Beach, company Founder and Creative Director Pat Morell has been designing and fabricating custom awards with his team of woodworking craftsmen for over 40 years. Morell Studios prestigious client list includes The Tavistock Cup, The First Tee, Oakmont Country Club, The Bear's Club, Muirfield Village Golf Club and many others. The company has recently produced various awards and recognition products on behalf of the Metropolitan Golf Association, the Westchester Golf Association, the Metropolitan PGA Section, New Jersey and New England PGA Sections, as well as, the PGA of America.
In addition to the creation of wood plaques, perpetual panels and trophy bases, Morell offers a turnkey Hole-In-One program for the green-grass market and is an Official Licensee of The Nicklaus Companies. The company offers customized hole-in-one plaques that feature the golf club's logo with three different mat color options. The Nicklaus Series is personally autographed by Jack Nicklaus and includes a certificate of authenticity. A detailed view of Morell's product line can be found at morellstudios.com.
About Morell Studios
Morell Studios is committed to creating the highest quality award and recognition products for the golf industry and corporations that support it. Its creations are museum quality and feature handcrafted real oak and cherry wood products that are hand sanded, stained and sealed to a smooth, durable finish. All of the company's products are manufactured, engraved and assembled at its production facility in Florida.
Contact us:
Northeast
Bill Carroll - Vice President, Sales
Phone: (646) 425-0484
Email: billc@morellstudios.com
South Florida
Dan Carroll - Vice President, Sales
Phone: (772) 486-0305
Email: danc@morellstudios.com
All other states
Phone: (561) 223-3960
Email: info@morellstudios.com