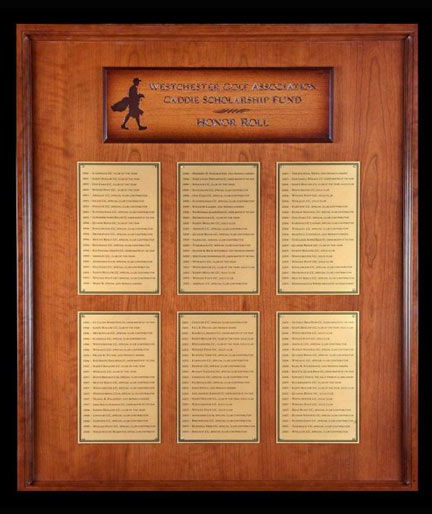 Courtesy of Westchester Golf Association
When major U.S. golf organizations, the biggest names in the golf industry,and the top golf courses in the U.S. need a premium quality trophy, award, plaque or recognition product, they contact Pat Morell. They reach out to Morell because he is the best in the golf industry at manufacturing handcrafted, museum quality awards that are unmatched in design, craftsmanship and elegance.
During his four decades in the business, Morell has created masterpieces for the PGA Grand Slam of Golf and the PGA Player of the Year.
Recently, one of Morell's finest pieces was displayed at the Westchester Golf Association's new "Friends of the Fund" Best Ball Tournament at Hudson National Golf Club in Croton-on-Hudson, N.Y. Morell produced a handcrafted cherry wood "Honor Roll Panel" highlighting the individuals and golf clubs who have received awards for making significant contributions to the WGA Caddie Scholarship Fund. The WGA-CSF Honor Roll Panel is not only an enduring testament to CSF contributors, it also encourages new and existing donors to increase their contributions to the fund.
Born in Niagra Falls, N.Y., Morell's family moved to South Florida when he was nine years old. He started making models of boats for naval architects at the age of 19. He spent a couple of years working as a deck hand on artist Jack Gray's boat and carving half-models of historic vessels while traveling through the Bahamas and up to Nova Scotia. He got his start in the golf world when he received a call from PGA National Golf Club to carve details on the new pro shop they were building.
Morell's big break in the golf industry came when he approached Bear Lakes Country club and offered to do some work for them in exchange for an introduction to Jack Nicklaus. That led to Morell handling a variety of assignments for Nicklaus and his wife, Barbara.
In 2001, Morell went to Muirfield Village Golf Club in Ohio and designed a permanent display using the replica trophies of Nicklaus' wins at the four majors. Morell created a special display at Lost Tree Club (North Palm Beach, Fla.) called The Legacy of Golf's Golden Bear, a display of Nicklaus' lifetime achievements featuring replicas of Jack's majors' trophies and the U.S. Amateur trophy, all of which were made by Morell. Morell Studios is currently a Licensee of the Nicklaus Companies, providing a customized line of hole-in-one plaques that are personally autographed by Nicklaus.
Through the years Pat Morell has designed and produced awards for Arnold Palmer, Gary Player, Hale Irwin and several other top names in the golf industry. In addition, he's used his superior designing skills to manufacture awards for Seminole Golf Club, Shinnecock Hills Golf Club, Oakmont Country Club, The Bear's Club and several chapters of The First Tee.
Morell produced a 32-inch tall handcrafted real cherry wood trophy pedestal for The Metropolitan Golf Association's Met Open Championship at Winged Foot Golf Club. The company also produces awards for The PGA of America and the New Jersey, New England and the Metropolitan PGA Sections. Morell Studios is also a new Corporate Trustee Partner of The First Tee nationally.
Morell Studios is committed to creating the highest quality award and recognition products for the golf industry. All of the company's products are manufactured, engraved and assembled at its production facility in Florida. A detailed view of Morell's product line can be found at https://morellstudios.com.