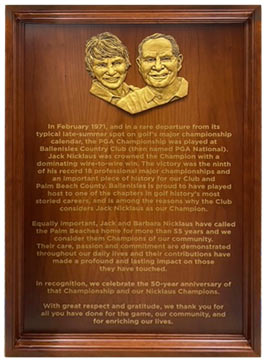 Morell Studios was contracted to create a unique recognition panel to commemorate Jack Nicklaus' PGA Championship at BallenIsles Country Club in Palm Beach Gardens, FL. The event, held on February 28, 2021, celebrated the 50th anniversary of Jack Nicklaus' victory at the 1971 PGA Championship held at BallenIsles.
The Morell Studios panel features a 3D sculpture of Jack and Barbara Nicklaus finished in gold. The panel includes gold lettering describing Jack's wire-to-wire win for his ninth major championship. "We are honored to create this special panel for Jack and Barbara" said Morell Studios owner Jon Clay, " We've had a longstanding relationship with the Nicklaus' and have provided a variety of products to support their initiatives in The Palm Beaches."
The recognition panel was hand crafted at Morell's West Palm Beach, FL studio. The panel features the finest quality cherry wood. It was hand sanded to a smooth finish and stained with the finest quality materials. Morell Studios is committed to creating the highest quality awards and recognition products for the golf industry.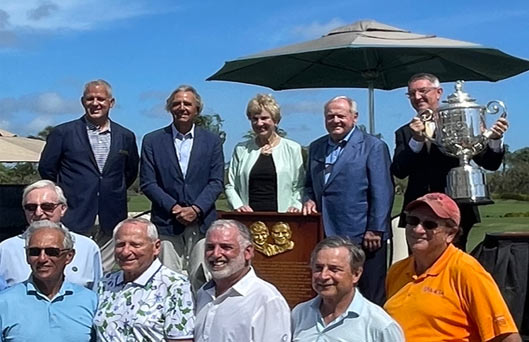 About Morell Studios
Morell Studios, a proud partner of PGA Retirement Plus, is committed to creating the highest quality award and recognition products for the golf industry and corporations. We have enjoyed 40 years of experience providing best-in-class custom awards, shadow boxes, recognition panels and hole-in-one awards. Our creations are museum quality and feature a variety of framing options including real wood cherry, gold or metallic and oak and mahogany finishes. The rich textures compliment both traditional and contemporary décor.
All of Morell Studio's products are proudly manufactured and assembled in the United States at a production facility in West Palm Beach, Florida. Our design studio includes an experienced team of wood workers, engravers and finishers. Through the years, Pat Morell has designed and produced awards numerous awards for the PGA of America, Shinnecock Hills GC, Winged Foot CG, Sleepy Hollow CC, Golf Club of Purchase, The Patterson Club and several other top organizations in the golf industry. In addition, he's used his superior design skills to manufacture awards for Seminole Golf Club, Baltusrol Golf Club and Oakmont Country Club.
For more information on Morell Studios, visit www.morellstudios.com
Contact: Jon Clay, Owner Morell Studios Jonc@morellstudios.com