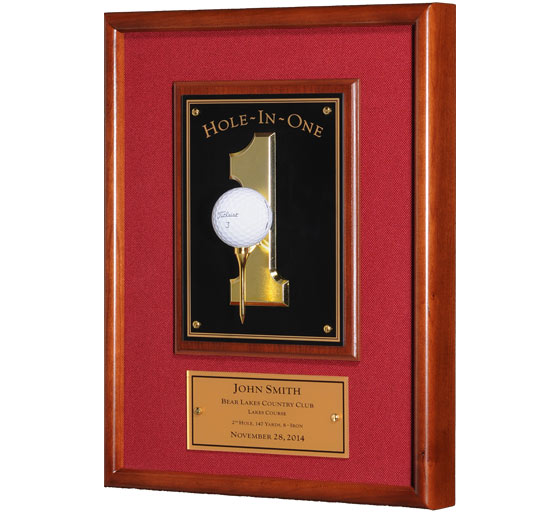 New for 2015, the Morell Hole-in-One plaque is a custom, museum quality plaque to recognize that shot of a lifetime. Morell Studios now offers a variety on unique hole in one plaques. Please contact us to enroll in our green grass pro shop program where the customer can leave the golf course the same day as the hole-in-one with the plaque.
Golf shops order a case of five or ten plaques, each individually wrapped to hold in stock. When a member or patron scores a hole-in-one, the plaque can be purchased the same day and brought home to display their actual golf ball with a congratulatory temporary plate. The hole-in-one information for the custom engraved plate is emailed or phoned to Morell Studios by the customer or golf shop. We mail the custom engraved plate directly to the golf professional, member or patron. We include the golf course logo on the engraved plate ONLY if purchased through the golf shop at the course.
Learn how to implement a hole-in-one insurance program that is fun for the members and generates revenue for the golf professional and club.
Please contact your local sales representative to place an order:
Northeast
Bill Carroll - Vice President, Sales
Phone: (646) 425-0484
Email: billc@morellstudios.com

South Florida
Dan Carroll - Vice President, Sales
Phone: (772) 486-0305
Email: danc@morellstudios.com

All other states
Phone: (561) 223-3960
Email: info@morellstudios.com