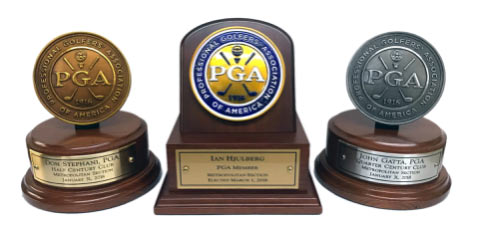 Museum quality custom awards and trophy provider, Morell Studios, continues Member Milestone Program with the Professional Golfers' Association of America Metropolitan Section for 2021-22 seasons.
Morell Studios, the provider of high-quality awards and recognition products for the golf industry and corporations, is pleased to announce its sponsorship extension with the Metropolitan Section of the Professional Golfers' Association of America (Met PGA).
This renewed sponsorship marks the continuation of the Morell Studios Met PGA Milestone Program, originally created by Morell Studios to highlight the accomplishments of our newest members, as well as pay tribute to our more tenured PGA Professionals reaching Quarter and Half Century status. Similarly, Morell Studios and the Met PGA have implemented our "Legendary Partner" initiative to honor those individuals who have been dedicated to supporting the Met Section as part of this concept of recognition. The inaugural class consisted of: George Altman, Judy Altman, Mike Brannon, Howard Burr, Ely Callaway, Charlie Carr, Bob Catapane, Vin Draddy, Bill Egan, Gordie Faulkner, John Fink, Ted Galgano, Aleck Gaylor, JP Howard, Jim Judson, Gene McMasters, Terry Murphy, Ray Nolan, Al Northrup, Wally Phillips, Mike Reardon, Josh Rifkin, Scorrie Robertson, Gary Scneti, Irv Schloss, Don Temple, Howard Trieber, Joe Turnesa, Wayne Van Horn, and Dennis Watson.
Of the new partnership, Met PGA Executive Director Jeff Voorheis said, "The Morell Studios PGA Member Milestones is an example of a very impactful program that allows us feature products from a valued sponsor while recognizing the accomplishments of our members. Like so many things, 2020 forced us to take a pause, but we are back as strong as ever thanks to Jon Clay's commitment to relaunching the program."
Jon Clay, Owner of Morell Studios added, "Our unique multi-year sponsorship of the Met PGA Section has enabled us to build strong relationships with its members and recognize their outstanding contributions to the game of golf. It is a valuable platform to showcase our museum quality awards and recognition panels."
This year over 50 PGA members will receive one of Morell's desktop awards, which feature the 3D design of the PGA logo on a cherry wood base. The PGA logo is finished in gold (Half Century), silver (Quarter Century) and full color for new members. The awards will be sent to the new members through out the year.
About Morell Studios
Morell Studios, a proud partner of PGA Retirement Plus, is committed to creating the highest quality award and recognition products for the golf industry and corporations. We have enjoyed 40 years of experience providing best-in-class custom awards, shadow boxes, recognition panels and hole-in-one awards. Our creations are museum quality and feature a variety of framing options including real wood cherry, gold or metallic and oak and mahogany finishes. The rich textures compliment both traditional and contemporary décor.
All of Morell Studio's products are proudly manufactured and assembled in the United States at a production facility in West Palm Beach, Florida. Our design studio includes an experienced team of wood workers, engravers and finishers. Through the years, Pat Morell has designed and produced awards numerous awards for the PGA of America, Shinnecock Hills GC, Winged Foot CG, Sleepy Hollow CC, Golf Club of Purchase, The Patterson Club and several other top organizations in the golf industry. In addition, he's used his superior design skills to manufacture awards for Seminole Golf Club, Baltusrol Golf Club and Oakmont Country Club.
For more information on Morell Studios, visit www.morellstudios.com
Contact: Jon Clay, Owner Morell Studios Jonc@morellstudios.com
About the Metropolitan PGA
At the very forefront of the National PGA then and today, is the Metropolitan Section. The leadership, innovativeness and quality that has become synonymous with the Metropolitan PGA programs elevate the association to a position of prominence both in the local golf community and among its national counterparts. For the Met PGA Professional, "Growing the Game" is not just a theme, but a professional commitment and mission.
Much of the success of the Met PGA and its Foundation are directly attributed to its location. Not only is New York the corporate and financial capital of the world, but to a great extent it is also the centerpiece of the golf world. Golf has flourished in the Metropolitan area, largely because of the willingness and desire of the area clubs and courses to support and maintain the traditions and heritage of the game.
For more information on the Metropolitan PGA visit www.met.pga.com or follow on Instagram, Facebook, and Twitter.