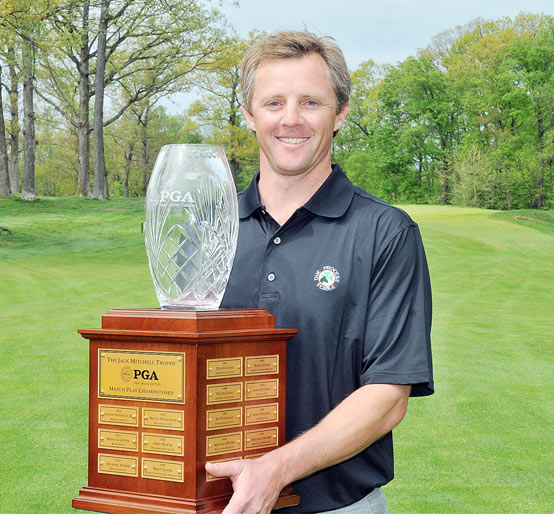 Morell Studios partners with the New Jersey PGA Section as Presenting Sponsor of the Match Play Championship at Canoe Brook Country Club. A leading provider of high quality awards and recognition products, the company created a new wood base for The Jack Mitchell Trophy.
Morell Studios entered into the agreement with the New Jersey PGA Section to collaborate with the membership and to expand the company's presence in the Northeast. "Our sponsorship of the New Jersey PGA allows us to create awareness for our company and reach every club professional in the Section," stated Managing Director, Jon Clay. "This is our second marketing initiative outside of our home base in Florida and we look forward to a successful partnership."
Morell will use the sponsorship to promote its 2015 product line of customized plaques made of cherry wood that are reverse-engraved and framed under glass. Its signature product is the Morell Hole-In-One Award that is an ideal keepsake to celebrate the shot of a lifetime with class. A turnkey program that provides minimal effort for the club professional to execute, the custom plaques are given to the player immediately after their round. The player secures their ball on the plaque's #1 Tee and Morell engraves a high gloss metallic plate with the specifics of the Ace.
"The New Jersey Section, PGA of America is made up of many first class PGA Professionals and first class PGA Facilities and we are excited to begin a partnership with Morell Studios, makers of first class awards, plaques and recognition products," said Executive Director, Chris Bauer.
About Morell Studios
A leading provider of custom awards, the company is committed to creating the highest quality recognition products for the golf industry and corporations that support the sport. The company has enjoyed over 40 years of experience designing and fabricating best-in-class plaques, perpetual panels and trophy bases. Our creations are museum quality and feature perfectly handcrafted oak and cherry wood frames that are hand sanded, stained and sealed with a durable finish. Products from Morell Studios are simply unmatched in design, craftsmanship and elegance - morellstudios.com.
Contact:
Bill Carroll, VP, Sales @ 646-425-0484 or billc@morellstudios.com