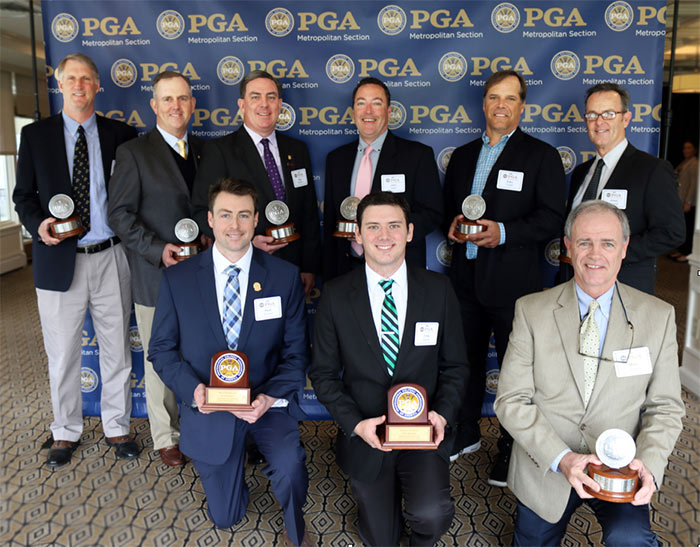 The Metropolitan PGA Section announced that Morell Studios is the Presenting Sponsor of the Met PGA Milestone Awards program. The awards were presented at the 2018 annual meeting to those professionals who have earned their PGA Membership, Quarter Century, or Half Century status since their Fall Meeting in 2017. Morell Studios has created three distinct awards to celebrate these PGA professionals' service to the game of golf and the section.
New members received a desktop award with a color PGA logo. Quarter Century members received a round desktop with a silver PGA logo and Half Century members received one with a gold PGA logo.
"We are excited to announce that we have partnered with Morell Studios to create a new Met PGA Milestone program starting this Spring" said Executive Director, Jeff Voorheis, "The PGA Member Milestone program was created to highlight the accomplishments of both our newest members, as well as, pay tribute to our more tenured PGA Professionals reaching Quarter and Half Century status." Morell Studios Owner Jon Clay added " We are excited to expand our relationship with the section and honor the golf professionals for their dedicated service."
Members who have previously reached Milestones before the development of this Sponsorship will be offered an opportunity to purchase an award at a discounted rate through this agreement.
For over 40 years Morell Studios has been providing museum quality custom awards and trophies to the most prestigious golf clubs and corporate organizations. At the same time, the Metropolitan PGA prides itself in partnering with some of the most influential and community-oriented companies in the United States that not only allow them to promote their PGA Professionals, but also the charitable work they do in the community.
Members receiving Met PGA Milestone Awards this Spring include:
New Members: Joshua Christopher, Jerzy Chylkowski, Nicholas DeFalco, Ryan Ehrhart, Craig Garcia, Steven Gastrau, Ian Hjulberg, Philip Krause, Jared Werner
Quarter Century: Jimmi Conway, Eden Foster, Max Galloway, John Gatta, Paul Giordano, Michael Montagnino, Gary Murphy, Cary Stephan, Craig Thomas, Jeff Warne
About Morrell Studios
Morell Studios is committed to creating the highest quality award and recognition products for the golf industry and corporations. We have enjoyed over 40 years of experience providing best-in-class custom awards, shadow boxes, recognition panels and Hole-In-One awards. Our creations are museum quality and feature rich textures to compliment both traditional and contemporary decor. All of our products are engraved and assembled at our production facility in Florida.
From country clubs to corporations, our products are unmatched in design, craftsmanship and creativity. Learn more about Morell Studios at https://morellstudios.com/; follow us on twitter @morellstudios and on Facebook at https://www.facebook.com/morellstudios
CONTACT: Bill Carroll, National Sales Director @ 646-425-0484 or Billc@morellstudios.com