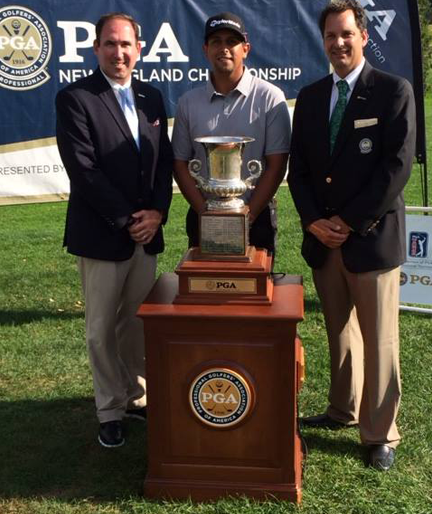 A 32-inch tall handcrafted cherry wood trophy pedestal, designed by Morell Studios, was a highlight of the trophy presentation ceremony at the New England PGA Section Championship at Concord Country Club. The winner's trophy was presented to Rich Berberian, Jr. of Windham (N.H.) Country Club, who captured his second consecutive NEPGA Section Championship.
The NEPGA Section trophy pedestal was created by Pat Morell, a master craftsman and woodworking artist who has served the golf industry for more than four decades. Morell Studios is committed to creating best-in-class, premium quality awards and recognition products.
"We are honored to produce this beautiful pedestal that will provide a showcase for the New England PGA Section trophies," said Morell, who created the official trophies for the PGA Player of the Year and PGA Grand Slam of Golf. "We are proud to be a Corporate Partner of the section and look forward to expanding our business in the Northeast."
"The Morell Studios trophy pedestal added a strong presence to the Thomas Mahan Trophy at our premier event, said Mike Higgins, Executive Director of the New England PGA Section. "We're excited to have this magnificent pedestal on display at future tournaments."
Morell Studios prestigious client list includes The Tavistock Cup, The First Tee, Oakmont Country Club, the Nicklaus Companies, The Bear's Club, Muirfield Village Golf Club, Seminole Golf Club, Shinnecock Hills Golf Club and many others. The company is currently producing various awards and recognition products on behalf of the Metropolitan Golf Association, the Westchester Golf Association, the Metropolitan PGA Section, New Jersey and New England PGA Sections, and the PGA of America.
About the New England PGA Section
The New England Section is a non-profit association dedicated to promoting the game of golf and improving the vocation of the golf professional in New England. The New England PGA is the 8th largest of the 41 sections of the PGA of America, and is home to more than 1100 PGA Member and Apprentice Golf Professionals working at over 500 facilities in Vermont, New Hampshire, Maine, Rhode Island and Eastern Massachusetts. The New England PGA conducts close to 300 golf tournaments annually for professional, amateur, and junior golfers throughout New England.
About Morell Studios
Morell Studios is committed to creating the highest quality award and recognition products for the golf industry and corporations that support it. Its creations are museum quality and feature handcrafted real oak and cherry wood products that are hand sanded, stained and sealed to a smooth, durable finish. All of the company's products are manufactured, engraved and assembled at its production facility in Florida.
Contact us:
Northeast
Bill Carroll - Vice President, Sales
Phone: (646) 425-0484
Email: billc@morellstudios.com
South Florida
Dan Carroll - Vice President, Sales
Phone: (772) 486-0305
Email: danc@morellstudios.com
All other states
Phone: (561) 223-3960
Email: info@morellstudios.com
Media
Al Abrams Phone: (646) 210-7016
Email: al@abramspr.com